Monthly Archives:
March 2018
Monday March 12th, 2018: The Chairperson of the African Union Commission, H.E. Moussa Faki Mahamat, paid his first visit to the ACSRT. He was received by The AU Special Representative for Counter-Terrorism Cooperation and Director of the ACSRT, Larry Gbevlo-Lartey Esq. The Chairperson was accompanied by a high powered delegation consisting of H.E Ambassador Smail Chergui, AU Commissioner for Peace and Security, H.E Prof. Sarah M.E. ANYANG AGBOR, AU Commissioner of Human Resources, Science and Technology, H.E. President Pierre Buyoya, the High Representative of the African Union for Mali and the Sahel, H.E. Ibrahim Mayaki, the Executive Secretary of the Planning and Coordinating Agency of the New Partnership for Africa's Development, Mr. El-Ghassim Wane, Chairperson's Chief of Staff, and H.E. Prof. Mohamed El-Hacen Lebatt, the principal strategic advisor of the chairperson.
During the visit the Chairperson toured the centre and had a meeting with the staff. The Chairperson commended the Director and his staff for their good work and urged them to continue to deliver on their mandate. He emphasized the need for the ACSRT to evolve innovative responses to the situation of Terrorism, Violent Extremism and Transitional Organized Crime in Africa. He also commended the ACSRT for its Root Cause / human Security approach to addressing Violent Extremism and Radicalization that lead to Terrorism.
On cooperation and economy of effort, the AU chairperson mentioned that there will be a summit in Nouakchott, Mauritania soon which will bring together the existing regional security mechanism in the Sahel (CEMOC, UFL, G5-Sahel, and MNJT) in order to coordinate the response effort.
In his concluding remarks, the Chairperson emphasised the importance of the role of the ACSRT in assisting AU Member States to build their capacity to respond to the threats of Terrorism and Violent Extremism. He indicated his resolve to ensure that the ACSRT becomes the African Centre of Excellence for Counter Terrorism that it was established to be.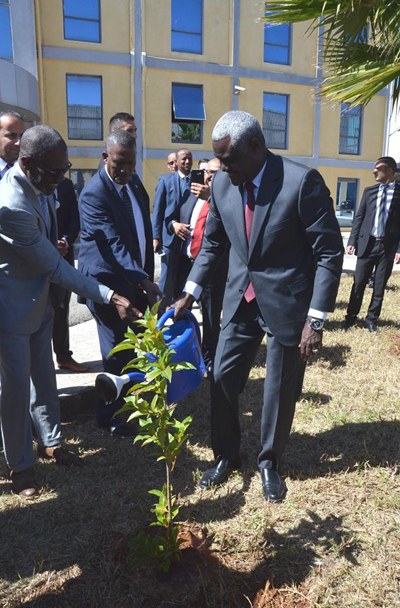 To mark this historical visit, the Chairperson of the AUC planted a tree at ACSRT premises to symbolize African peace and unity.
Addis Ababa, 2 March 2018: The Chairperson of the African Union Commission, Moussa Faki Mahamat, strongly condemns the terrorist attacks that took place in Ouagadougou, today. He expresses the solidarity of the African Union with the people and Government of Burkina Faso in these difficult circumstances.
The Chairperson of the Commission underlines that these attacks are a further illustration of the seriousness of the scourge of terrorism in the Sahel, as well as of the urgency of a more sustained international action in support of the efforts of the countries of the region, particularly through the G5 Sahel Joint Force.
The African Union will continue its advocacy efforts to sensitize the international community on the imperative of an international engagement that is commensurate with the threat confronting the countries of the region, within the framework of an ever closer coordination.